Shop for KVM Raritan Products

Raritan DKX3-108-PAC Raritan ( Dominion KX III ) 1 IP user, 1 Local user Digital KVM 8 port KVM switch with access over IP Supplied with 8 x cim's D2CIM VUSB ( Raritan Dominion KX3 Range CAC )
Description:
The Dominion KX III is Raritan's flagship enterprise-class KVM-over IP switch that provides 1, 2, 4 or 8 users with BIOS-level remote management of 8, 16, 32 or 64 servers in a single switch. With industry leading video performance, security, and enhanced reliability, the Dominion KX III outperforms the competition. With standard features such as DVI/HDMI/DisplayPort digital video, VGA analog video, audio, virtual media, smart card/CAC, and mobile access, the Dominion KXIII is suitable for both general applications and dynamic broadcast applications.

It's ideal for Server Rooms, Test Labs, and the Largest Enterprise Data Centers. KX III offers high performance web-based remote management of servers, PCs, laptops and serial devices with virtually any application. Deploy individually, or centralize with Raritan's CommandCenter Secure Gateway.

HOW DOES IT DIFFER FROM THE DOMINION KX2?

The KX III is the next generation version of the KX II. Featuring a modern hardware design with increased computing power and storage, the KX III provides KVM-over-IP access for IT administration, as well as high performance IP access for broadcast applications. KX III includes virtually all KX II features with the following advancements:

The KX III's new video processing engine supports a broad range of applications from traditional computer applications to the most dynamic broadcast applications requiring 30 frames-per-second 1920x1080 video, 24 bit color, digital audio, dual monitors and DVI, HDMI, DisplayPort and VGA video.

With the industry's first DVI-based local port, the KX III's common user interface provides new levels of productivity and performance for at-the-rack administration and server access.

All KX III models feature a tiering port to connect multiple Dominion KX III switches together and access the attached servers. Up to 1024 servers can be accessed via a consolidated port list.

KX III supports all Dominion and Paragon II CIMs supported by KX II.


Raritan DKX3-808 model Front and Rear shown. Actual product may be of same style but with less ports capability. pm-calc917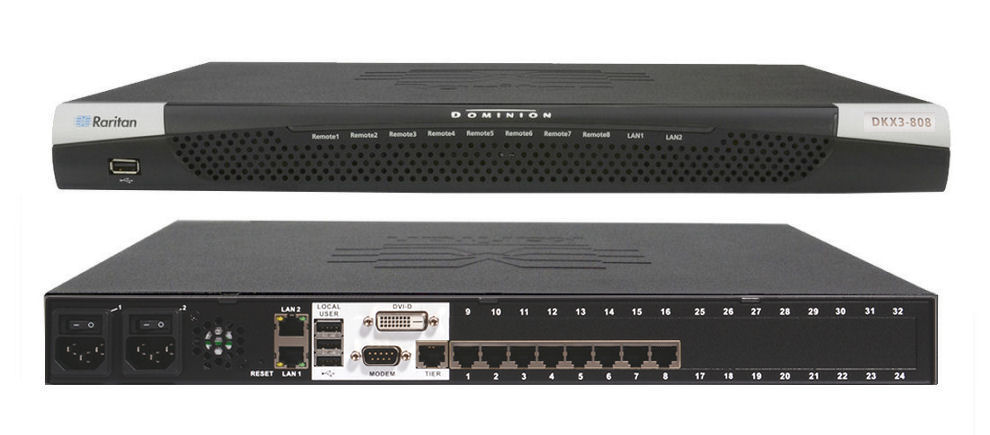 Features:
Remote BIOS-Level Access
Dominion KX III has the industry's highest performing and most flexible KVM-over-IP technology. Users can access Dominion KX III from LAN, WAN, Internet, mobile & dial-up, allowing admins BIOS-level access to troubleshoot, reconfigure, reboot and power cycle servers remotely.

Blazing, High Performance Video and Audio

30 frames-per-second, high definition video support over-IP with audio. The 1920x1080, high definition, digital video performance supports broadcast and other dynamic, video-intensive applications. A DVI Digital Local Port provides fast, at-the-rack performance.

Virtual Media over IP
Each Dominion KX III comes equipped with virtual media to enable remote tasks, such as software installation, remote booting and diagnostics, using the widest variety of CD, DVD, USB, internal and remote drives and images.

Military Grade Security
With Raritan's Dominion KX III, you can meet government and military security mandates, including: AES & FIPS 140-2 encryption, Common Access Card (CAC) authentication, and IPv6 networking.

Multiple Hardware Models
Multiple hardware models provide the highest density in this class and enable simultaneous access by one, two, four or eight remote users to 8, 16, 32 or 64 servers.

Mouse in Sync
Absolute Mouse Synchronization provides perfect mouse synchronization without changing server mouse settings - the ultimate in plug-and-play!

Redundancy for Reliabilty
For increased reliability and redundancy, all Dominion KX III models have dual power supplies and LAN ports with automatic failover.

Go Mobile
BIOS-level access and control of PC's and servers via Apple iPhones and iPads. Get emergency 24/7 out-of-hours access, as well as convenient everyday access

Remote Power Reboot
Power up, power down or power cycle servers connected to optional Raritan remote power control units. With a single click, you can re-boot a hung or crashed server.

Single Pane of Glass
The Dominion KX III scales to support thousands of enterprise servers when integrated with Raritan's CommandCenter Secure Gateway, providing a single pane of glass to all your equipment in all your data centers, globally.

Broad Compatibility
A suite of multiplatform CIMs to connect to VGA, DVI, HMDI, DisplayPort, USB, USB with virtual media, Sun®, Sun USB and serially controlled servers, as well as popular blade server models from: HP®, IBM®, Dell® and Cisco®.
Specification:
Raritan DKX3-108-PAC

Raritan ( Dominion KX III ) 1 IP user, 1 Local user Digital KVM 8 port KVM switch with access over IP

Supplied with 8 x cim's D2CIM VUSB ( Raritan Dominion KX3 Range CAC )

* 8 Ports *

Single Remote User over the Network

Dominion KX III Model DKX3-108-PAC
Description 8 server ports, 1 remote user, 1 local port for use at the rack
Dimensions (WxDxH) 17.3" x 13.15'' x 1.73''; 440mm x 334mm x 44mm
Weight 8.60 lbs;
3.9 kg
Power and Heat Dissipation- Dual Power 110V/240V, 50-60Hz1.8A 60W 52 KCAL


Specifications for All Dominion KX III Models:

Form Factor - 1U and 2U full width, rack mountable (brackets included)

Operating Temperature - 0º - 45º C (32º - 113º F)
Humidity - 0% - 85% RH

Remote Connection:
Network - Dual 10/100/1000 gigabit Ethernet access; dual-stack: IPv4 and IPv6
Modem Port - DB9(F) DTE
Protocols TCP/IP, HTTP, HTTPS, UDP, RADIUS, SNTP, DHCP, PAP, CHAP, LDAP, SNMP v2 and v3

Local Access Port - Single Link DVI-D (F)
VideoKeyboard/Mouse - USB(F), 1 USB front, 3 USB rear
Tiering Port - RJ45

Sample Video Resolutions
PC text mode 640x350, 640x480, 720x400
PC graphic mode 640x480, 800x600, 1024x768, 1152x864, 1280x1024, 1440x900, 1680x1050, 1600x1200, 1920x1080, 1920x1200
Sun video mode 1024x768, 1152x864, 1152x900, 1280x1024

Warranty Two years standard with advanced replacement* UK & Europe subject to Tech support ticket number, advance covering order arrangement RMA No. and return of faulty unit see full terms from Distribution or Supplier.



Compatible Computer Interface Modules (CIMs):

D2CIM-VUSB – USB CIM for virtual media and Absolute Mouse Synchronization
D2CIM-DVUSB – Dual USB, VGA CIM for BIOS virtual media and advanced features
D2CIM-DVUSB-DVI – Dual USB, DVI-D CIM for BIOS virtual media and advanced features
D2CIM-DVUSB-HDMI –Dual USB, HDMI CIM for BIOS virtual media and advanced features
D2CIM-DVUSB-DP – Dual USB, DisplayPort CIM for BIOS virtual media and advanced features
DCIM-PS2 – CIM for PS/2
DCIM-SUN – CIM for SunD2CIM-PWR – CIM for remote power managementDCIM-USBG2 – CIM for USB and Sun USB
D2CIM-PWR – CIM for remote power management
DCIM-USBG2 – CIM for USB and Sun USB
P2CIM-SER – CIM for serial (ASCII) devices
Click here for further information
---